When it comes to eCommerce, FRED & FARID New York thinks outside the box - literally.
NEW YORK, September 22, 2021– When it comes to stocking your home bar, Rémy Martin 1738 is a staple... And now, it's right at your fingertips. To demonstrate this, FRED & FARID New York wanted to rethink traditional ecommerce media, and thought outside of the box… literally.
FRED & FARID New York hijacked Facebook and Instagram shoppable "Collection" ads, which allow users to swipe through products in-feed, while they view the video content. Breaking free of the ad unit itself is surprising, scroll-stopping and inviting to say the least. Cheers to that.
No more boundaries or red tape– every aspiring home-bartender can shop the entire Remy Martin collection with a few taps in their social feed. So, how can that be demonstrated within the confines of a traditional ecommerce ad? By breaking it, of course.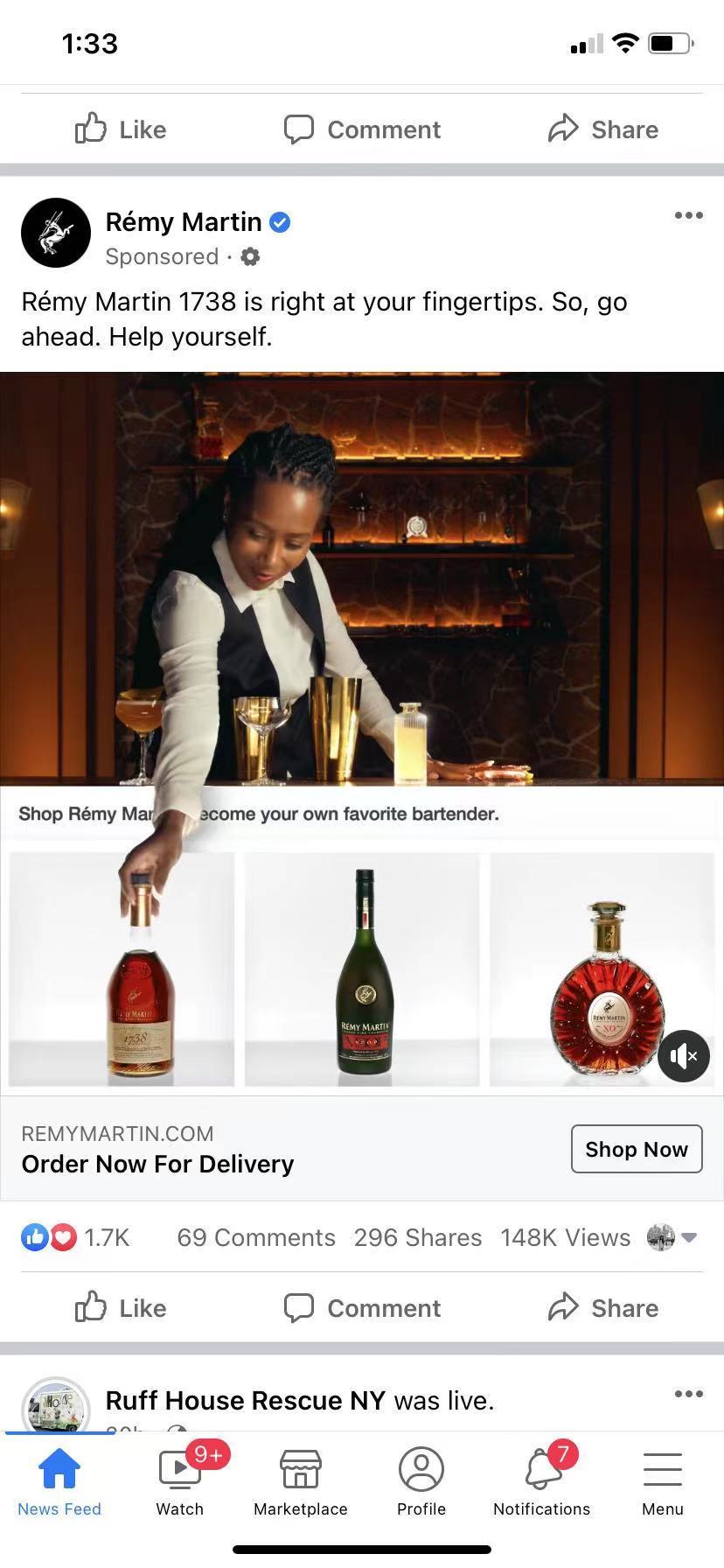 ---
CREDITS:
Title of the ad: Remy Martin E-commerce Hijack
Agency: FRED & FARID New York
Chief Creative Officers: Fred & Farid
Creative Director: Laurent Leccia
Agency supervisors: Amanda Hellman, Nader Nemati
Brand supervisors: Timothee Memmi
Associate Creative Director: Michael Hess
Copywriter: Emma Kolb
Executive Producer: Tennille Teague
Brand Strategist: Tim Polder
Production Company: Jane Studios
Director: Cole Schreiber
---
About FRED & FARID
FRED & FARID is a purpose driven company producing meaningful ideas, grounding brands into culture. Based in Los Angeles, New York, Paris, Shanghai, FRED & FARID's culture is a peculiar mix of the french sense of craft and taste, the Chinese sense of tactic and digital, and the American sense of vision and strategy. The agency focuses on creative consulting, brand strategy, branding, content & social activation, and has produced 1800+ creative campaigns for 250+ brands in 33+ industries, winning 1000+ awards and 30+ industry titles – including the AdAge Small Agency 2020 Gold Newcomer of the Year, and Best Integrated Campaign of the Year: www.fredfarid.com ​
ABOUT RÉMY MARTIN
Since 1724, Rémy Martin has produced premium spirits that consistently appeal to the world's most discerning connoisseurs. A profound love of the land, a continuity of family ownership ​ and ​ a ​ passionate ​ commitment ​ to ​ excellence ​ has ​ sustained ​ Rémy ​ Martin ​ for ​ nearly three ​ centuries. ​ As ​ a ​ result ​ of ​ its masterful ​ production ​ and ​ generations ​ of ​ tradition ​ in ​ Cognac, Rémy Martin today produces Fine Champagne Cognacs, including Rémy Martin® XO, Rémy Martin® Tercet, ​ Rémy ​ Martin ​ 1738® ​ Accord ​ Royal ​ and ​ Rémy ​ Martin® ​ V.S.O.P. For additional information, visit: www.RemyMartin.com.