Longchamp, partnering with FRED & FARID Los Angeles, launches "It is not a bag. It is Le Pliage®." the first campaign for its most iconic line, which was originally debuted in 1993.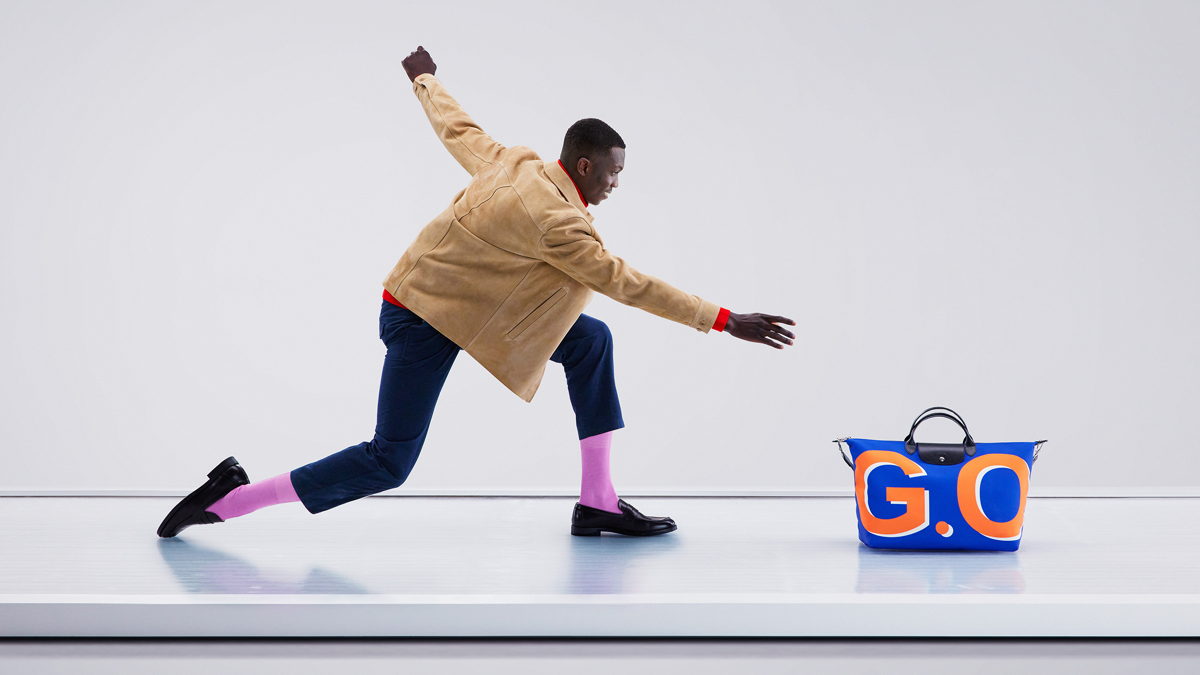 - The first ever tagline and campaign for Longchamp's most iconic line: "It is not a bag. It is Le Pliage®️." – conceptualized by FRED & FARID Los Angeles.
- "It is not a bag. It is Le Pliage®️." Encompassing nine brand films, and a series of print ads, directed and shot by internationally-awarded director, photographer, visual artist and designer Sander Plug for Longchamp.
Partnering with boutique creative network FRED & FARID, Longchamp – the iconic Parisian fashion house – is launching the first ad campaign for its most iconic line, Le Pliage®️.
Crafted with leather handles, a signature flap, colorful nylon – and now recycled fabric, within a new Pliage Green more durable collection – Le Pliage®️ is named after the French verb "to fold," because it can be folded up and stowed away.
Inspired by origami, and a trip that Longchamp's founder's son Philippe Cassegrain took to Japan in the 90s, Le Pliage®️ was initially released in 1993… and instantly skyrocketed to fame.
Since then, it's been sold around the world and carried by countless celebrities. Today, it is rumored to be found in every home in France. Whether for travel, or everyday wear, Le Pliage®️ is a must. Le Pliage®️ is a legend. Le Pliage®️ has become a design icon – because of its ingenuity, and its status as the first style to pair nylon and leather in a chic way (all for a surprisingly affordable price).
The new campaign was created under the line: "It is not a bag. It is Le Pliage®️." (in French: "Ce n'est pas un sac. C'est Le Pliage®️.")
The tagline was inspired by an insightful observation from Longchamp's CEO Jean Cassegrain and Artistic Director Sophie Delefontaine, which is that: "Le Pliage®️ is not a bag. It is a concept." Meaning it is a lifestyle – of adventure, movement and energy, that still remains elegant. Le Pliage®️ is representative of the desire to go places – to get things done – while simultaneously looking amazing. It is the perfect fusion of fashion and function. But there is no way that it is just a bag.
To bring "It is not a bag. It is Le Pliage®️." to life, FRED & FARID partnered with the renowned Studio Sander Plug and its founder (of the same name), who is an internationally-awarded film director, photographer, visual artist and designer. Sander Plug, the man, is known for his conceptual approach, minimal aesthetics, exemplary craft, and also his smart humor, which he has applied to creative work for numerous luxury and fashion brands including Hermès, Vogue, Cos, and Campari, amongst many others.
Longchamp's campaign comprises films in which people interact with Le Pliage®️ to prove: "It is not a bag. It is Le Pliage®️."
For example, in "Eco," a discarded plastic bottle magically transforms into a more durable Le Pliage®, showing off the brand's new sustainable collection. The film sheds a glamorous perspective on what it means to create and carry a recycled object. Sustainable is not an unsavory alternative to unsustainable. It is just as chic (and maybe even more chic) to take care of the Earth and look great while doing so. In "Gliding," a man walks into frame with Le Pliage® Signature model and bends to slide it across an ice rink, as if it were a curling stone. In "Abstract Dance," a group of people (all dressed and color-blocked in Longchamp's ready-to-wear FW 2021 collection) do interpretive choreography, each while holding Le Pliage® – which becomes more like a dancing partner. In a clear demonstration of the brand's overarching Parisian Spirit, "Croissant" compares the folding of Le Pliage® to the folding of a croissant.
With 6 films suggesting Le Pliage®️ is not a bag, the 3 final films show Le Pliage®️ questioning what it really is. The tongue-in-cheek mini series is called: "Am I Not A Bag?"
Alongside the film campaign, Sander Plug and the team at FRED & FARID, developed a print campaign around the most iconic Le Pliage®️ characteristic — it's ability to fold. With the line photographed and printed on pieces of paper, folded precisely where a Le Pliage®️ can be folded in real life, the print campaign is a paper demonstration / "how to" for folding Le Pliage®.
"It is not a bag. It Is Le Pliage®️." seeks to reintroduce the timeless authentic original style – along with (as mentioned above) a newly debuted collection of "Le Pliage®️ Green," made from recycled fabric. True to its nature, the innovative Le Pliage®️ has found a way to innovate once again.
"The launch of Le Pliage® Green represents the culmination of Longchamp's efforts to source sustainable alternatives to its hard-wearing nylon canvas. We strongly believe in the future of this fibre and we commit ourselves to use exclusively recycled canvas in all our products by 2023". Sophie Delafontaine, Creative Director.
"It is not a bag. It is Le Pliage®️." follows Longchamp's "très paris" campaign, which encompassed an 8-minute short film, print, and social work – which FRED & FARID also developed.
CREDITS:
Title of Ad: "It is not a bag. It is Le Pliage®️."
Client: Longchamp
Brand Supervisors: Jean Cassegrain (CEO), Sophie Delafontaine (Creative Director),  Marie-Laure Dubuisson (CMO), Marie Coumes (Visual Production Project Manager)
Agency: FRED & FARID Los Angeles
Chief Creative Officers: Fred & Farid
Agency Supervisors: Severine Autret, Leslie Hatchwell
Creative Director: Chelsea Steiger
Writer: Hilary Smith
Agency Producer: Agnes Bouille
Production Company: Studio Sander Plug
Director & Photographer: Sander Plug
Producer: Maarten Le Roy
Stylist: Thomas Vermeer
LINKS