Fridays for Future U.S. introduces "Aliens" on the occasion of the US midterm elections.
Ahead of the 2022 US midterm elections on November 8th, Fridays For Future U.S., a climate movement inspired by Greta Thunberg, makes a bold statement that we shouldn't fear aliens, as the Earth's greatest threat is far closer than we may think.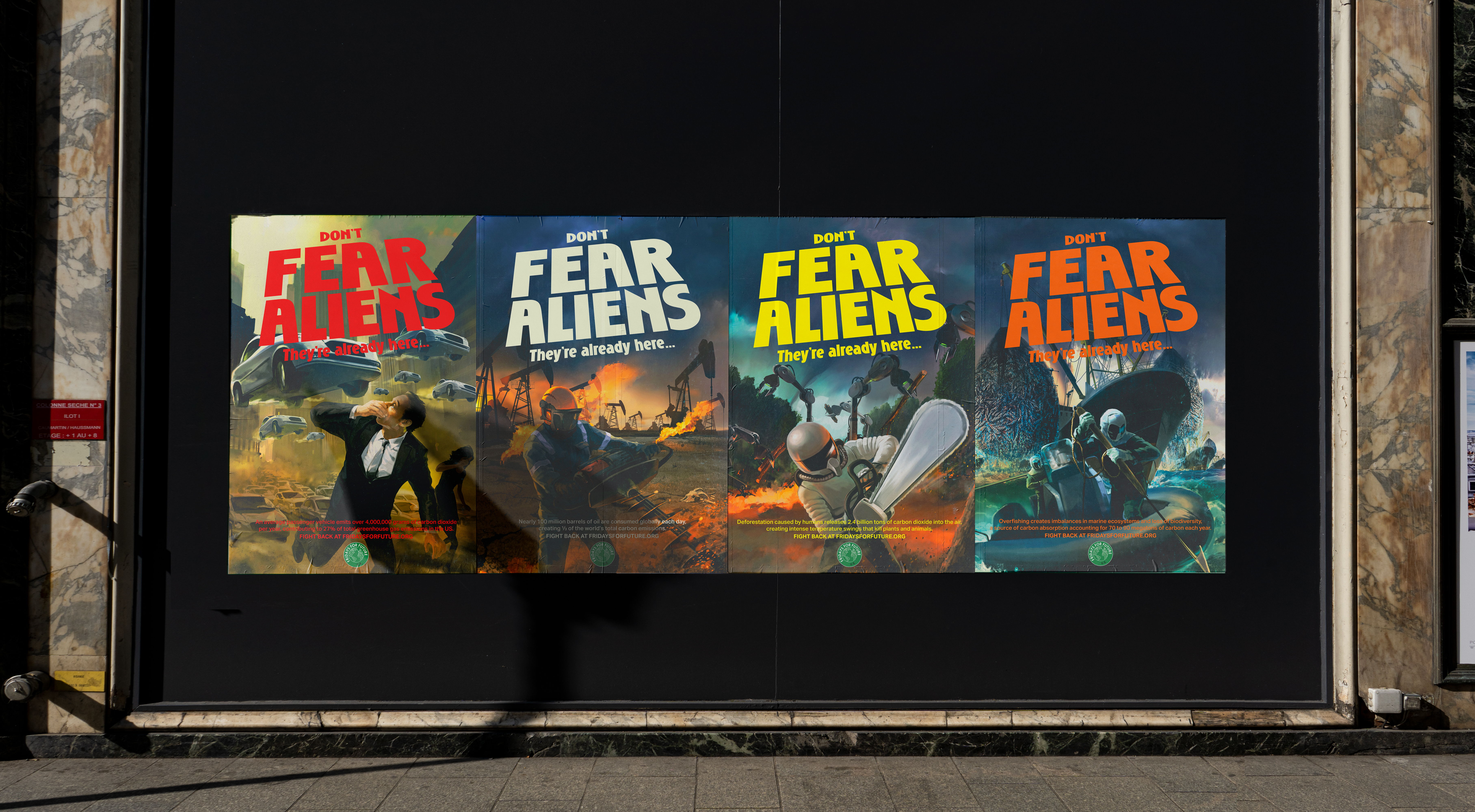 We've long worried about the potential of malicious foreign invaders arriving on Earth and causing destruction. This hypothetical alien invasion has been the plotline for numerous successful movies and TV shows, as well as being the throughline for countless conspiracy theories over the last 50+ years. 
And while humans have pressed the government for evidence of life on other planets, and the possible threat of their relocation to Earth, we've been busy destroying our own home. 
From anti-environment legislation and a lack of federal regulations, to man-made deforestation that devastates natural ecosystems globally, it's abundantly clear that the humans already living on Earth are far more dangerous to the future of our planet than any aliens could ever be. 
With the midterm elections approaching and the reality that 139 elected officials in the 117th Congress still deny the scientific consensus of human-caused climate change, Fridays for Future U.S. releases "Aliens", a four-part poster series powerfully illustrating that our fears of deadly alien invasion are the least of our concerns. The reality is that the aliens are already here, and they're doing irreparable damage. ​ Whether it's the denial of climate change or the lack of action to address it, these aliens are already destroying our planet - one local election at a time. 
Utilizing retro Sci-Fi motifs, "Aliens" depicts four different environments under attack by humans who look eerily similar to the aliens attacking a foreign planet. 
Men in futuristic suits chop down trees with abandon, with machines aiding in the devastation as the bottom of the poster reads, "Deforestation caused by humans releases 2.4 billion tons of carbon dioxide into the air, creating intense temperature swings that kill plants and animals." Business people flee from ominous smog clouds that engulf the sky as gas guzzling cars fill the air with fumes, informing readers that "An average passenger vehicle emits over 4,000,000 grams of carbon dioxide per year, contributing to 27% of total greenhouse gas emissions in the US." A giant fishing boat splits the sea like a monster, with nets full with hundreds of fish and bycatch, explaining how overfishing "Creates imbalances in marine ecosystems, and loss of biodiversity — a source of carbon absorption accounting for 70 to 90 megatons of carbon each year. " A series of fires rage from the Earth as humans and massive rigs drill for oil, emphasizing that "Nearly 100 million barrels of oil are consumed globally each day, creating ⅓ of the world's total carbon emissions."
Our reality of planetary destruction appears to continue with abandon. A frightening lack of federal regulation in the U.S. is a result of rulings like West Virginia v. EPA and the subsequent Inflation Reduction Act — which, while a step forward, still limits the authority of the EPA to truly tackle the root causes of climate change — as well as the ever-present lack of political interference on a global level, educating the public about the current state of the Earth and the environment and taking action has never been more crucial. 
We are already in the midst of a foreign invasion on Earth, but we are the aliens. 
"Every election is a climate election. The midterms will decide Congressional action on the man-made climate crisis for the foreseeable future. Americans across the country are watching our seas rise, our houses burn, and our air thicken with smoke. It's time to elect climate champions who will represent their constituents and fight for our people and planet.
We need to elect leaders who will fight for economic, racial, gender, reproductive, queer, disability, and labor justice. It is all on the line in November, and now is the time to vote for your family, friends, and neighbors. It is time to vote for your rights, and for our planet." says Liv Schroeder, Fridays for Future U.S. Policy Director.
This new campaign marks the 7th collaboration between FRED & FARID Los Angeles and Fridays for Future. In 2019, FRED & FARID Los Angeles launched their first campaign for the organization called "Local Warming" which shined a spotlight on local impact of climate change during the the United Nations Climate Change Conference. In 2020, FRED & FARID Los Angeles illustrated Greta's Thunberg metaphor in the spot "House on Fire". In 2021, on the day that NASA's Perseverance Rover touched down on Mars, Fridays For Future U.S. and FRED & FARID Los Angeles unveiled "1%" – a satirical tourism ad for Mars, to awaken the 99% of humans who will have to stay on Earth; later that year, in September 2021, for Fridays for Future's Global Climate Strike, FRED & FARID launched "The Denial", a film to illustrate our global denial about the climate crisis, in which a man was simply running into a wall. In early 2022, Fridays for Future U.S. released "We Don't Care", a film starring a cast of Gen Z kids questioning the existence of climate change with the familiar rhetoric of the media and previous generations, coinciding with Fridays for Future's next Global Climate Strike. And most recently, Fridays For Future U.S. and FRED & FARID Los Angeles launched "I Love You, California", a film illustrating the devastation of the near-constant phenomenon of California wildfires' and their effects on climate change. 
LINKS
POSTERS: https://www.dropbox.com/sh/vqxczmd8beivpl8/AAAo5-vxGPkiWACW1NVdr0vna?dl=0 
BILLBOARD: https://www.dropbox.com/sh/a8kxvbwvci9vsbd/AACYlYVqzFTV-UOBfQIqkSrXa?dl=0 
TITLE OF CAMPAIGN 
"Aliens"
CREDITS 
Agency: FRED & FARID Los Angeles
Chief creative officers: Fred & Farid
Creative Directors: Chelsea Steiger, Nicolas Berthier 
Creatives: Cameron Higginbotham, Radouane Guissi, Ciana Alessi, Hilary Smith, Bridget Callahan, Kiyomi Morrison 
Agency Supervisor: Jules Chaffiotte
Strategy Director: Eileen Zhao
Executive Producer: Amanda Van Caneghem
Illustrator: Paul Chan 
----------------------------------------